• Happy DK • Happy Sock • Indie dyers of Canada • Smiling Sheep
Ever wonder how we name our yarns? Here's a little info on nomenclature at Smiling Sheep.
---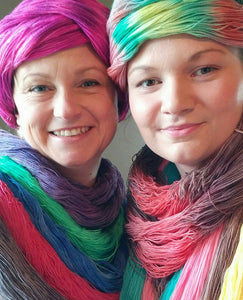 Hello there! Let me introduce myself. My name is Happy Ewe, but you can just call me Happy. I run the show here at Smiling Sheep. As a matter of fact, the company is even named after me. My main task is to keep Lisa and Becky in line. They can get rather rambunctious while dyeing, but they do get the job done! Sometimes, they will experiment with colour and combinations, or maybe a new yarn. The results are usually stunning one-of-a-kind skeins that are sold as "Happy's Stash."  Lisa Park Tomaszewski has been creating things with yarn since she was...