It's about colour - rich, vibrant, and emotional.
It's about fibre - soft, natural, and luxurious.
It's about community - learning and sharing.
It's about you and your chosen craft.
Large quantities of any of our yarns or custom requests can be special ordered by emailing us at smilingsheepfineyarns@gmail.com.
Blog
Ever wonder how we name our yarns? Here's a little info on nomenclature at Smiling Sheep.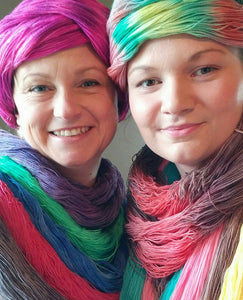 Hello there! Let me introduce myself. My name is Happy Ewe, but you can just call me Happy. I run the show here at Smiling Sheep. As a matter of...